I know I said that I was gonna post the eye-opening video from my last post...but I had to push back a couple of posts just to post while this fiasco's still relevant.
------------------------------------------------------------------------------
Refresher links in case you haven't been following or don't know what's up:
Giambrone's sorry excuse of a campaign will be remembered in infamy.
I've been really interested in the TTC lately, so I've been following this closely.
He's long been hailed as Toronto's poster boy for THE up-and-coming prominent politician. At 32 years old, he's accomplished a lot... but I guess wise decisions & the ability to make good decisions based on experience isn't included in that. His list of accomplishments include (in this order): NDP youth wing affiliate by the time he was 15, Federal NDP president, Toronto Councillor, Commissioner of TTC, & Chair of TTC, before finally running for Mayor.
Mistake 1: Heading the TTC at a peak of customer dissatisfaction. Rider dissatisfaction has been building up over the years, with the steady increase in fair hikes, bad service, delays, irresponsible fiscal spending, etc. Unfortunately for him, he just happened to be the face to attack when the shit hit the fan - which I think would've been completely avoidable or minimized. If he planned his political career better, he could've resigned. Imagine how well the spin would've worked if he resigned and said it was because "he can't stand by and watch the TTC betray its customers/the city like that".
Mistake 2: the horrible excuse of a campaign video (http://www.youtube.com/watch?v=jnOUupt2f9E&feature=related). The editing was horrible, the sound was garbage, and the writing of his script was horrible. If it was meant to be satirical, it was a bad attempt at that. If it was supposed to appeal to the younger audience, it appealed...but not in a good way (check any of his campaign videos & read the comments). Bottom line, Mr. Giambrone, is that corny humour only works if it's actually funny.
Mistake 3: having a mistress. Seriously? Was there any way that this could've gone well? It's like girls who send naked pictures of themselves to their dog of a boyfriend - I'm sure they're gonna keep that all to themselves...*insert eye-rolling smiley*.
& here's pics for you dogs (lol):
- Giambrone + partner both in his private & public life
- The alleged mistress
Mistake 4: Not admitting the truth, to begin with -by trying to deny the affair. First of all, if you TEXTED someone incriminative information, why would it be likely that they wouldn't keep it? The truth(or some distorted version of it) will only eventually come out, and you just screw yourself over even more. Second of all, wouldn't it make more sense to declare something that will eventually be leaked so you can beat them to punch & make it less effective when it inevitably DOES come out?
Mistake 5: Crying during a press conference. If we can look past the fact that he's a grown-ass man...why the hell would you cry during a press conference. Sure, life's stressful, your careers over, you just made the biggest mistake of your life (okay...now that I think about it, why wouldn't you...). But STILL, think of the image that this sends. A mayoral candidate cracks under pressure. It begs a voter to question how he would handle stress if elected for office.
Mistake 6: Dropping out of the mayoral race. Although it's probably a good ting that this guy isn't going to be running the city...from his point of view, he still had a chance. The elections are 6 months away; spin control's an amazing thing, these days; and dude was 2nd place in the race. It would only take a couple of months, a hundred apologies, and the majority of the public would eventually forget that this ever happened. What makes this even worse is that he couldn't do it himself - a representative had to walk into the room after he stormed out to announce that he was dropping out.
Let's open this up for discussion now:
- Was it wrong of her to exploit the situation?
- Besides how it hurt his image, isn't all this irrelevant to his platform?
- Isn't his personal life his own business?
- Or are they supposed to give up all rights to privacy when they take up a public position like that?
- Should "skeletons in the closet" be forgotten or are they ALWAYS relevant?
Take a step back and think: should this REALLY affect what his political agenda is? Does it really take away from his character?
Personally, I'm not a fan of the guy (anti-motorcyclist lobbyists = not a good match for me)...but what he's been able to do with his political career is pretty commendable. I'll admit that it's easy to analyze all the "what if"s and point out what people do when you're on the outside looking in...so of course, nothing I just said holds any weight (except for the fact that it seems to make sense). I can't lie that I'd love to be Giambrone's Public Relations rep right now (no sarcasm). Not that I support his platform, but dude was well-recognized because of his media coverage from his TTC days - he threw the towel in way too early. I wouldn't be surprised if he decided to retract his dropping-out (remember where you heard it first!...hypothetically speaking)
Btw, this is the pre-curser to the "short-comings of Toronto" series: the TTC chapter.
Long post - I know. Hopefully you enjoyed reading it as much as I enjoyed writing it.
Here's a funny .gif for being a trooper and reading the whole thing: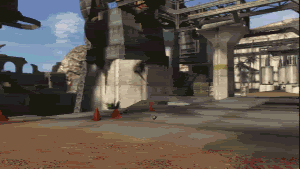 Figuratively speaking, guess which one's Giambrone & which one's Toronto? ;)
Peace,
- knowledge